Volleyball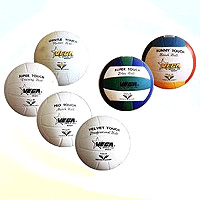 Product ID: VLV55
Professional ball! It is a match ball made of very gentle, the highest quality top grain leather, available in white color. Nylon wound and butyl bladder assure ideal resilience and durability and first of all perfect balance. Very good playability. Recommended for professional players.
Specifications:
Material: genuine leather
Very strong butyl bladder.
Official size: 5 (also available for size 4)
Official weight.
Very good resilience.
Ideal shape and resistance.
Features:
VEGA brand.
Commitment in performance, product design, and market value.
Capacity to manufacture performance & quality meeting FIVB standards.
See more complete detail
| Item No. | Size | Panel Material | Color |
| --- | --- | --- | --- |
| VLV55 | 5 | Top grain leather | White |
| VSLV50 | 5 | PU | White |
| VPV50 | 5 | PVC | White |
| VPV51 | 5 | PVC | White + green + royal blue and white + yellow + navy blue 3 color combination |
| VRV50 | 5 | Rubber | White, or other optional color |
| VRV51 | 5 | Rubber | Any 6 color combination |
Order Information:
Minimum Order: $6,000 per shipment. Below that, a handling fee, $200 will be charged.
.OEM/ODM Product, .Branded Product, .Buyer's Label Offered
FOB: Bangkok, Thailand, Xiamen